Sonoma Coast Wool
In Sonoma Coast you will find sheep ranchers, designers, sewers, knitters, felters, natural dyers, and spinners who are producing wool or using wool to create art and clothing. You can connect with a fiber producers who are creating wool from a variety of colors and textures. Creating wool prized by handspinners, weavers and felters. For fiber artists you may find raw fleeces, washed fleeces, spun yarn in a variety of weights and blends.
Fiber Arts
Fiber art is a style of fine art which uses textiles such as fabric, yarn, and natural and synthetic fibers. It focuses on the materials and on the manual labor involved as part of its significance. There are places on the coast like the Artisans' Co-op in Bodega that has a large selection of Fiber Arts from local artisans. Artisans' Co-op, 17175 Bodega Hwy, Bodega, CA 94922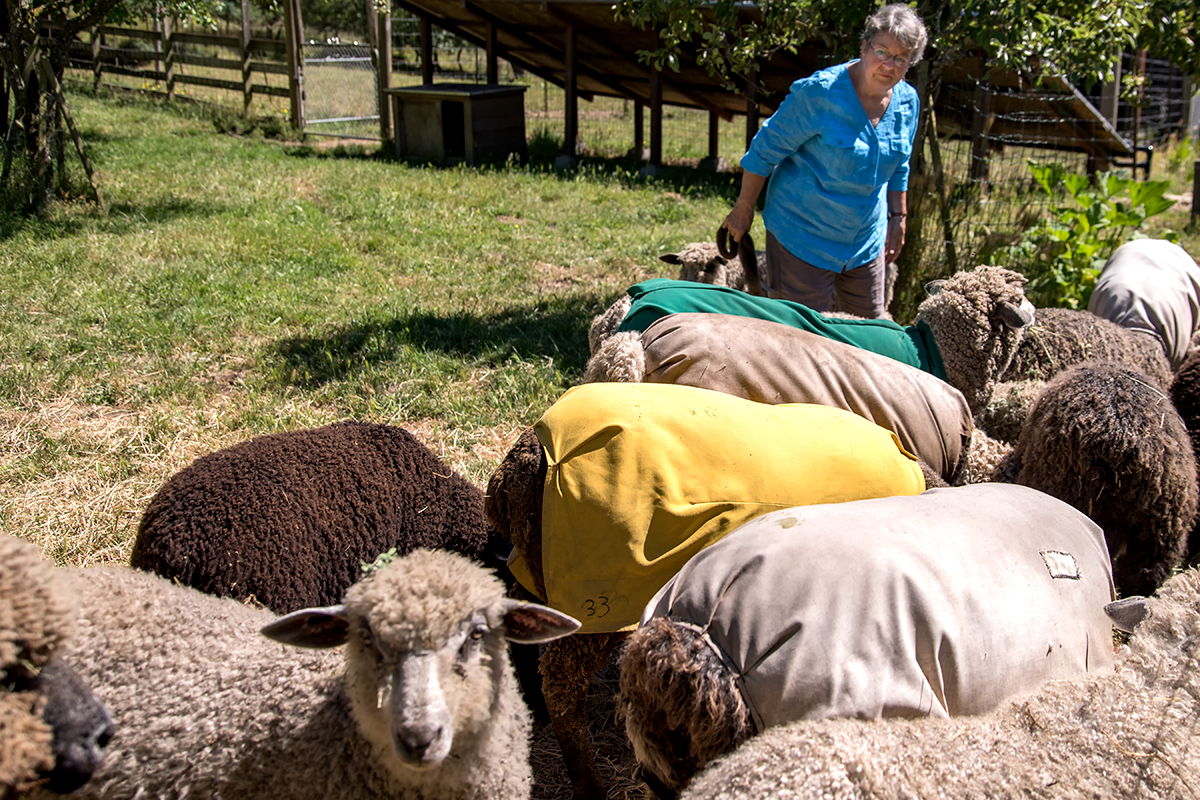 Starbuck Station Wools
The Starbuck Station Wools name Starbuck comes from Sheppard Martha Cant's mother's family, out of Nantucket—whales, Station bit is from Australian and New Zealand sheep stations, or ranches.

Starbuck Station Wools has a long history of involvement in wool. When Sheppard Martha Cant moved to Freestone in 1974, she acquired 17 acres of pasture.
She started with Corriedales, added Lincolns to improve the luster, then when she needed a new ram, invested in a Wensleydale/Lincoln and a few Cormo ewes to breed him to, giving her the best combination of shiny and soft. Her flock consists of various mixes between these two types of wool, always striving for the right balance of length, fineness and crimp. She has a number of naturally colored sheep, black and grey in the Wensleydales, and brown in the Cormos. She sells whole or half raw fleeces, wool processed intoroving or sliver, and hand spun yarns.

A second interest of Martha's has to do with dyeing wool with natural dyes, plants and bugs which are found in nature and used to impart color to fiber. She raises a lot of my own dye plants: Japanese indigo, madder, coreopsis and marigolds. Queen Anne's lace and goldenrod, lupin flowers and laurel leaves are gathered from roadsides. She is developing a palate from these sources, and she dyes a lot of quality commercially spun yarns as well as her own hand spun.

Starbuck Station Wools are available at the Artisans' Co-op, 17175 Bodega Hwy, Bodega, CA 94922 .
Martha Cant from Starbuck Station Wools uses Madder (Rubia tinctoria) plants to create a beautiful red color for her wool. Madder dye plants make one of the most light-fast of natural dyes that has been in use for thousands of years.
Bodega Pastures
Bodega Pastures is a beautiful, 1000-acre sheep ranch located in west Sonoma County just outside of Bodega.
Our mixed flock is bred for color and texture, hardiness and meat quality. Corriedale, Romney, Suffolk, Churro, Border Leicester and Wensleydale breeds are represented. The wool is prized by handspinners, weavers and felters, who can each find a suitable fleece for their project from our diverse selection.
Our wool comes in a variety of beautiful, natural colors. It is excellent for hand spinning, knitting, felting and many other applications. We can provide raw or processed wool. Handspinners can choose from raw fleece from several breeds or roving. Felters can work from raw fleece or batting. Our yarn is processed in a heritage mill and comes in luscious natural colors and a wide variety of beautiful dyed colors. Batting can be used for many projects including felting, bedding, and non-toxic, fire retardant insulation.
All of our finished products are handmade using our homegrown wool. We can make up your fabric to your specifications and fill with our wool. Our fabrics are unbleached, organic cotton sateen, muslins or patterned or plain calicos.

Bodega Pastures comforters, pillows, wool and yarn are available at the Artisans' Co-op, 17175 Bodega Hwy, Bodega, CA 94922 .

For ordering and more information please contact us: